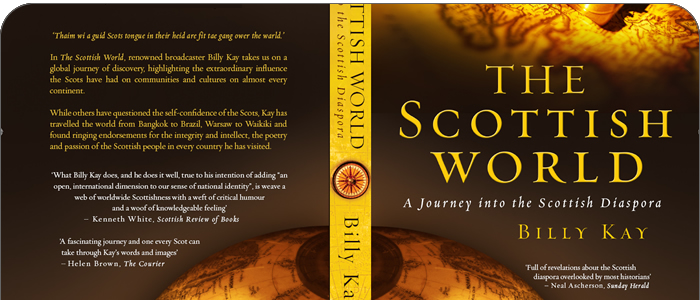 News & Latest Updates
For details of forthcoming
broadcasts and public talks
given by Billy Kay,
News
BATTLE OF FALKIRK July 22 ALLAN RAMSAY FESTIVAL October 14th ABERTAY HISTORICAL SOCIETY October 19th CELEBRATION OF SCOTS November 8th SERVICES TO SCOTS Video Link PERSPECTIVE Video Link
BATTLE OF FALKIRK COMMEMORATION 1pm/1.30pm Falkirk
I am delighted to be invited to address the good folk attending the annual service to commemorate the patriots who fought for Scottish independence at the Battle of Falkirk.
Details of the parade and the ceremony here:
http://www.thesocietyofwilliamwallace.com/
ALLAN RAMSAY FESTIVAL The Allan Ramsay Hotel, Carlops
Saturday October 14th
Very much looking forward to this annual celebration of the great Scots poet Allan Ramsay and his son, the renowned painter Allan Ramsay. I will be speaking about the convivial tradition of 18th century Scotland which was based mainly on French claret.
Guid claret best keeps oot the cauld
an drives awa the winter sune.
It maks a man baith gash an bauld
an heaves his saul ayont the mune.
More details to follow. Visit also: https://www.allanramsayhotel.com/
ABERTAY HISTORICAL SOCIETY Dundee University October 19th 5pm
Abertay Historical Society is 70 years old and as part of Dundee Literary Festival, Billy Kay will introduce the celebration by talking about the importance of local history.
CELEBRATION OF SCOTS Kinlochard The Trossachs, November 8th.
I will talk about the history of the Scots language illustrated with passages from writers like Dunbar and Fergusson. I will be joined by my friend Rod Paterson, with music from the great tradition of Scots song.
Details here: www.scottishmusicfestival.co.uk
AWARD for SCOTS
Meikle thenks for aw the kind words anent ma speech at #NaTrads. Ablow is a link tae ma bittie.
My section of the brilliant MG Alba programme for those who want to see the wee film and hear my speech. Thanks to all those who have commented on it and who have supported me in the guid cause.
Many thanks to bees knees media for supplying a link to the clip:
Password is: hive01
PERSPECTIVE
Delighted to contribute to Phantom Power's excellent preview programme of what we all hope will become a series on contemporary Scotland. Classy television!