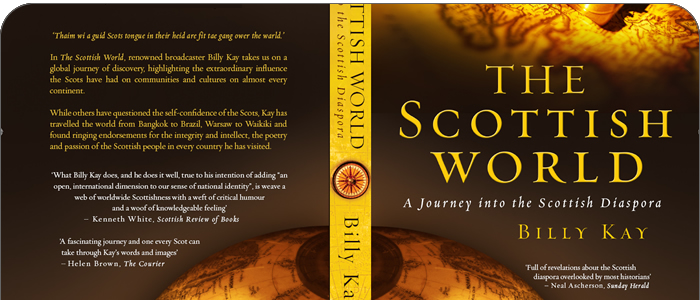 News & Latest Updates
For details of forthcoming
broadcasts and public talks
given by Billy Kay,
News
St Andrew's Society Banquet New York
The Newport 30th January 2020
Library of Congress Feb 21
Declaration of Arbroath In Production
Award for Scots Video Link
St ANDREW'S SOCIETY OF NEW YORK ANNUAL BANQUET
The Universities Club Manhattan November 22, 2019
It was a privilege and a pleasure to address such a prestigious Society. Here is an article about what was a very special occasion for the Kay family.
https://www.newyorksocialdiary.com/in-living-color/
Thanks to all the people in Scotland who contributed to the holiday packages that were auctioned and the wine makers Andy, Steve, and Robin who produced the Scottish Californian wine. Those plus the signed copies of my books raised close to $15,000 for charity.
This is a copy of the Press Release issued by the Society:
Billy Kay to receive the Mark Twain Award Presented by the Saint Andrew's Society of the State of New York
The Saint Andrew's Society of the State of New York is pleased to announce that Billy Kay, Writer and Broadcaster, will serve as the honored guest to receive the Mark Twain Award at the 263rd Anniversary Banquet on Friday Nov. 22, 2019 in New York City. The award recognizes individuals who help the Scottish community envision the future, identify paths to success, and carry out a vision. They are leaders in their respective fields and are recognized by their peers for their contributions.
Former award recipients include Writer and Broadcaster, Kirsty Wark; Chairman of Freeman's auction house, Alasdair Nichol; and The Rt. Hon. The Viscount Thurso of Ulbster PC, Chair of VisitScotland.Mr. Kay is a distinguished Scot dedicating his career to exploring and promoting the significant impact of the Scots community around the globe. His company Odyssey Productions produces documentaries on Scottish cultural history for BBC Radio Scotland, winning five international awards for his work.
Society president, Donald S. Whamond Jr. said: "We are privileged to honor Billy Kay. He exemplifies the very best of Scotland and is a true ambassador, tirelessly promoting the special relationship that exists between our two countries. Honoring a great Scot while supporting our mission of helping others is incredibly rewarding."
On receiving the award Billy Kay said, "I was very touched and honoured when I heard that the Saint Andrew's Society of the State of New York were presenting me with this prestigious award. I studied American Literature as part of my degree at Edinburgh University, so I'm delighted too that the award is named after one of my all-time favourite authors Mark Twain. When it dawned on me that I would be following in Twain's brilliant footsteps in giving the principal speech at the annual St Andrews banquet, my immediate thought was one of trepidation – a case of "no pressure there, Billy!" But I've now decided to joyfully embrace the challenge, and may well draw on a quote or two from the great man himself to help me! Having made many documentaries about the Scottish diaspora, I am intensely aware of the great role charitable organisations like the St Andrews Society of New York have played around the world – from the Scottish Brotherhoods in Poland and Prussia in the 17th century to the Thistle Club of Honolulu in the 19th century, the latter also movingly addressed by Robert Louis Stevenson. All of them were motivated by love for Scotland and the desire to help "brither an sister Scots" wherever in the world we find them. It is a great honour to receive the Mark Twain Award and I will use it proudly to promote knowledge of Scotland's great tradition of the Democratic Intellect wherever and whenever I can."
Mike Alexander did this fine piece about it in the Dundee Courier:
https://www.thecourier.co.uk/fp/news/local/dundee/1008544/newports-billy-kay-touched-and-honoured-to-receive-prestigious-scottish-american-cultural-award-in-new-york/
THE NEWPORT January 30th 2020
More details to follow but very much looking forward to working with Masterchef winner Jamie Scott in an evening celebrating the Scottish wine and culinary tradition in a fabulous dinner.
https://www.thenewportrestaurant.co.uk/
LIBRARY OF CONGRESS Washington DC February 21st JAMES HOGG SYMPOSIUM
I am delighted to contribute to the James Hogg Symposium in Washington DC along with Valentina Bold, Sheena Wellington and Adrian Hunter from Scotland and Nancy Groce from the American Folklife Centre – a great promoter of Scotish culture in America. I will be speaking about Hogg and the Scots tongue. More details here by clicking here
https://www.loc.gov/folklife/Symposia/hogg/schedule.html
THE DECLARATION
For the 700th anniversary of the Declaration of Arbroath in 2020, Billy will present a major series of three programmes for BBC Radio Scotland on a hugely significant moment in Scottish and world history. The Declaration of Arbroath was one of the first statements ever to define a concept of national sovereignty and it has had a profound influence at home and abroad ever since.
"For as long as but a hundred of us remain alive, never will we on any conditions be brought under English rule. It is not for glory, nor riches, nor honours that we are fighting, but for freedom — for that alone, which no honest man gives up but with life itself."
More details to follow nearer the time , but it is scheduled to be broadcast on April 6, 7 and 8 at 13.32 on Radio Scotland.
AWARD for SCOTS
Meikle thenks for aw the kind words anent ma speech at #NaTrads. Ablow is a link tae ma bittie.
My section of the brilliant MG Alba programme for those who want to see the wee film and hear my speech. Thanks to all those who have commented on it and who have supported me in the guid cause.
Many thanks to bees knees media for supplying a link to the clip:
Password is: hive01