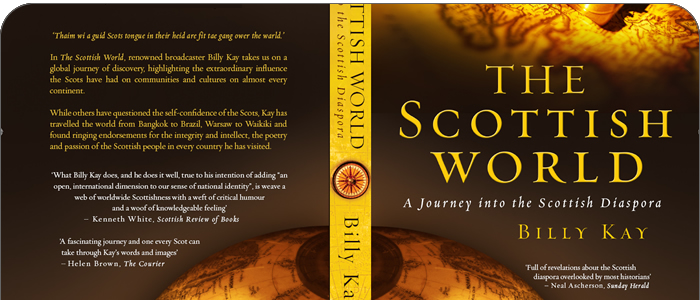 News & Latest Updates
For details of forthcoming
broadcasts and public talks
given by Billy Kay,
News
SNP Burns Supper Blair Drummond January 19
Scotland's Memoir Film on Youtube
Bemis Celebrates Burns Glasgow Sept 24.
A Crack wi Billy Kay Dundee February 22nd
Complete Caledonian Imbiber On the BBC iPlayer
Don Roberto Radio Scotland February 20th
Award for Scots Video Link
Trossachs & Teith SNP Burns Supper Blair Drummond January 19
As a lad wha wis also born in Kyle, I'm delighted to deliver the Immortal Memory and recite Tam o' Shanter at the Trossachs & Teith branch of the SNP's Burns Supper, Blair Drummond Village Hall, January 19th. Here's tae us, wha's like us!
For tickets contact Mairi Armstrong: mairi@specialfx.co.uk 01786 870160 or by text (or pm) 07792 594405)
Scotland's Memoir Film on Youtube
I was proud to contribute to this lovely film about Scotland – this is who we are.
https://www.youtube.com/watch?v=2x8P-nkFJ7M&t=45s
Bemis Celebrates Burns Glasgow Fruitmarket Gallery
https://www.celticconnections.com/events/Pages/event.aspx?ev=67effb50-eabd-4f0b-bc20-a815011b227a
Also delighted to be attending Bemis Celebrates Burns at Celtic Connections on January 24th. Hope to see you there. Last year's event was terrific.
https://www.youtube.com/watch?v=8_4zKq3b6tg
A CRACK WI BILLY KAY Butterfly Café Dundee 7pm February 22nd
https://www.eventbrite.co.uk/e/a-crack-wi-billy-kay-tickets-41902652963?utm-medium=discovery&utm-campaign=social&utm-content=attendeeshare&aff=estw&utm-source=tw&utm-term=listing
Organsed by the Dundee & Angus Independence Group
The Complete Caledonian Imbiber
The last few programmes from the series are available on the iPlayer till the end of January
http://www.bbc.co.uk/programmes/b09kf6cz
A series of 6 new and archive programmes on Scottish convivial history presented by Billy Kay Following broadcast each programme will be available on the BBC iPlayer for one month worldwide
BBC Radio Scotland Tuesday November 21st at 13.30 rpt Sunday 07.32.
In The Complete Caledonian Imbiber, Billy Kay celebrates the Scots drouth for fine wine across the centuries, from the "fresche fragrant clairettis" described by the court poet Dunbar in the 16th century, to the Scots making luscious Cabernet Sauvignons in California's Napa Valley today.
In the first programme Billy follows in the footsteps of Robert Louis Stevenson who visited "the long green strath" of Napa Valley on his honeymoon in 1880 and discovered wine there which he described as "bottled poetry". Like RLS Billy tastes wine in the cellars of Schramsberg, http://www.schramsberg.com/ and visits the vineyard there of one of the Scots pioneers in Napa – Colin McEachran from Greenock. The Stevenson connection with Napa wine is also celebrated by Barrett Dahl in the museum devoted to the author in St Helena http://stevensonmuseum.org/ , and by Tom Thornton of The Grade Cellars in Calistoga http://www.thegradecellars.com/
Billy also discovers a Scots wine consultant Colin MacPhail working in Calistoga and a coterie of Scots wine makers in Sonoma and Napa today who continue the tradition celebrated by RLS: Andy Smith at Dumol, https://www.dumol.com/ Steve Law at Maclaren Wine https://www.maclarenwine.com/ and Robin Akhurst at Apsara https://apsaracellars.com/
The red wine of Bordeaux, claret had such a strong claim to be Scotland's national drink over the centuries that it was called "the bloodstream of the Auld Alliance." Even after the Union with England, it continued as a symbol of Jacobotism and the continuation of Scotland's ancient European ties. John Home penned this ditty about the British government's attempts to put an end to this.
Firm and erect, the Caledonian stood,
Old was his mutton and his claret good.
'Let them drink Port' , the English statesman cried
He drank the poson and his spirit died.
In fact, gey few spirits died, as claret was simply smuggled into Scotland in huge quantities, and nobody cared how it had got here. Burns was still describing quaffing competitions among the Dumfriesshire aristocracy at the end of the 18th century. "And knee deep in claret he'd die e're he'd yield, yes knee deep in claret he'd die e'er he'd yield."
Despite the earlier aversion to port, soldiers returning from the Peninsular War had developed a taste for the fortified wines of the Iberian Peninsula, and Scots firms set up on Oporto and Jerez to supply port and sherry for the home market, and for exiles across the British Empire. Firms like Graham and Cockburn in Portugal, or Duff Gordon and Sandeman in Spain gained world wide approval for their wines, while Scots Jacobites in Madeira like the Gordons of Cossart Gordon, sold rich Malmseys to their countrymen in America and the West Indies. For his archive series back in 1994 Kay visited all of these historic vineyards and met people like Diego Fergusson, whose family moved from Banffshire to Jerez because of malt whisky was matured in sherry butts!
Billy also explores the history of ale and whisky through history, poetry and song, and bring the story of our love of strong spirits up to date with a visit to the farm distillery at Arbikie in Angus, which grows all of the ingredients to make its gin, vodka and malt whisky. http://www.arbikie.com/
Also in the final programme, Billy travels to Aragon and Catalonia to meet Scottish wine makers making a name for themselves there and here. Norrel Robertson from Forfar makes renowned Garnacha wines from his remote hilltop vineyards near Calatayud. http://www.escocesvolante.es/about.html while his friend Pamela Geddes makes sparkling red and rosé wines in her bodega in the Cava producing area of Penedès. http://www.lapamelita.com/uk_lobban.php
21/11/2017 The programmes are available here:
http://www.bbc.co.uk/programmes/b09g4ffb
Mike Alexander's article in the Dundee Courier is here
https://www.thecourier.co.uk/fp/news/scotland/545105/fine-wine-bloodstream-auld-alliance/
DON ROBERTO Radio Scotland 1.30 Tuesday, February 20, 2018
Continues every Tuesday till March 20. Each programme is available on the BBC iPlayer for 30 days.
A five part series written and presented by Billy Kay which includes the original four archive programmes from 1999 and a new introductory programme for 2018 - The Adventure Begins.
A portrait of R.B. Cunninghame Graham - A true Scottish romantic hero and founding father of both the Scottish Labour Party and the National Party – forerunner of the SNP.
The model for leading characters in George Bernard Shaw's plays "Arms and the Man" and "Captain Brassbound's Conversion". his friends included Oscar Wilde, Henry James and Joseph Conrad. The latter contrasted his own enclosed life compared to the flamboyant exoticism of R.B. Cunninghame Graham - "When I think of him, I feel as though I had lived all my life in a dark hole, without seeing or knowing anything". If ever a major Scottish figure deserved re-discovery it is surely the life and legend of Robert Bontine Cunninghame Graham.
Don Roberto 5 x 28" minute programmes
A portrait of R B Cunninghame Graham, (1852 - 1936) one of the most influential men in Scottish literary and political life in the 20th century - by far the most glamorous and romantic. With Scottish and Spanish aristocratic blood in his veins - he was often called the uncrowned King of Scots due to his family's claim to the throne through their ancestor Robert II. His life spanned several continents and cultures, all of which he touched and in all of which he is revered.
A schoolboy at Harrow, his childhood was divided between London and his family estate at Gartmore in Stirlingshire. As a young man, he followed the Spanish side of his heritage to Paraguay and Argentina. In Argentina he is regarded as a national hero and the father of the gaucho - the man who rode on the Pampas then brought the glories of the South American cowboy to the outside world through his short stories. His legendary status is such that many in the Lake of Menteith area swear that gauchos have come to the Isle of Inchmahome to sing melancholic Spanish eulogies at his graveside. Married to a Chilean poetess Gabriela de la Belmondiere (actually an English actress Caroline Horsfall) his life as a cattle drover and rancher took him all over South America and up into Texas. Everywhere he went, he had sympathy for traditional ways of life under threat, and used his writing to highlight the plight of marginalised cultures. This aspect of his legacy was in the news in the late 1990's when the body of an Ogala Sioux Indian chief was re-patriated from London to the Dakotas. The English woman who organised the event, had read of Long Wolf through the account of his life and death in the writing of Cunninghame Graham , who had befriended him.
On the death of his father, Cunninghame Graham succeeded to the Gartmore estates and he returned to live in Scotland. He became involved with the turbulent politics of the late 19th and early 20th century, and despite his background, always identified with the masses: "the damned aristo who embraced the cause of the people" as Hugh McDiarmid described him. He was Liberal MP for North Lanarkshire from 1886 till 1892, radically espousing the miners demands for shorter working hours and going to Pentonville jail for six weeks following his participation in a banned demonstration against unemployment which resulted in a riot. A close friend of Keir Hardie, he became the first president of the Scottish Labour party when it was formed
in 1888. After the first World War, he became increasingly interested in the Scottish question. He became president of the National Party of Scotland in 1928, and on its amalgamatiion with the Scottish Party in 1934, he became the first president of the Scottish National Party. He died in Argentina in 1936, but his body came home to Scotland to rest in his ancestral lands in Stirlingshire.
Because of his extensive writings on different cultures, his influence outwith Scotland was extensive - the Indian story just one of many with resonances in Spain, Morocco, Argentina, Paraguay, Mexico and the U.S. His short stories like the much anthologised "Beattock for Moffat" on a Scottish exile returning home to die, are also used to illustrate the programme. His polemical writing on Scotland too is increasingly relevant, as the tension between nationalism and unionism in Scottish politics is still unresolved.
Contributors in the original series from 1999 included Rennie McOwan, his great niece Lady Polwarth, her son, the writer Jamie Jauncey, Gustavo San Roman of St Andrews University, the poet George Bruce, his biographers Cedric Watts of Sussex University and Laurence Davies of Dartmouth College, USA, film maker Murray Grigor and Muriel Gibson who recalled seeing him on horseback leading the Bannockburn rallies of the Scottish National Party in the 1930's
Contributors to the new programme include: The weans of Gartmore Primary School and their teacher Miss Falconer, Dr Carla Sassi of the University of Verona; Professor Joe Farrell of the Cunninghame Graham Society, John C McIntyre, editor of The Cunninghame Graham Collection, Collected Stories and Sketches. Writer Chris Dolan who presented the television documentary Don Roberto in 2008, Chris Dixon, Head of Languages at Dublin Institute of Technology. Lachlan Munro, editor of An Eagle in a Henhouse – Selected Political Speeches and Writings of RB Cunninghame Graham, former SNP MSP Rob Gibson and Labour Party activist Gerry McGarvey.
AWARD for SCOTS
Meikle thenks for aw the kind words anent ma speech at #NaTrads. Ablow is a link tae ma bittie.
My section of the brilliant MG Alba programme for those who want to see the wee film and hear my speech. Thanks to all those who have commented on it and who have supported me in the guid cause.
Many thanks to bees knees media for supplying a link to the clip:
Password is: hive01