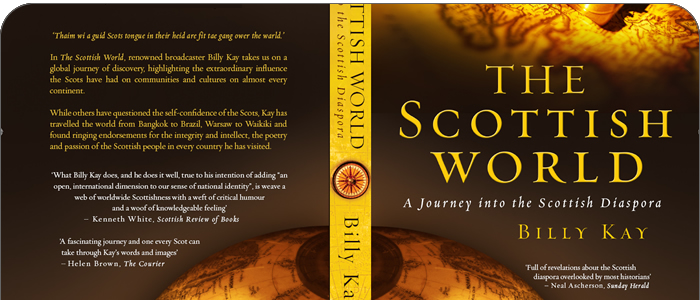 News & Latest Updates
For details of forthcoming
broadcasts and public talks
given by Billy Kay,
News
Frankenstein Dundee September 4
National Trust Cruise Sept 2 - 14
Scotland's Memoir Film on Youtube
Cable Magazine February 2018
Award for Scots Video Link
Frankenstein Dundee Radio Scotland Sept 4, 13.32 rpt Sept 9 07.04
2018 is the 200th anniversary of the publication of Mary Shelley's Frankenstein which was inspired by her stay as a young girl "on the blank and dreary northern shores of the Tay near Dundee." A feature to explore the Dundee connection, her relationship with her hosts the mill-owning Baxter family, and the novels lasting effects on literature and film.
These are the famous lines in her inroduction to the 1831 edition of the seminal Gothic novel:
"I lived principally in the country as a girl, and passed a considerable time in Scotland. I made occasional visits to the more picturesque parts; but my habitual residence was on the blank and dreary northern shores of the Tay, near Dundee. Blank and dreary on retrospection I call them; they were not so to me then. They were the eyry of freedom, and the pleasant region where unheeded I could commune with the creatures of my fancy. I wrote then—but in a most common-place style. It was beneath the trees of the grounds belonging to our house, or on the bleak sides of the woodless mountains near, that my true compositions of the airy flights of my imagination, were born and fostered."
Celtic Homelands Cruise Sept 2 – 14
Very much looking forward to the National Trust for Scotland's Cruise in September. I get the call every four years or so, and love taking part as a guest lecturer. Some of my favourite musicians are on board this time, so the crack will be good as well. Still some places left, so check it out and maybe see you on St Kilda?
https://www.nts.org.uk/cruises
This wee film I took part in gives you a flavour of what to expect:
https://www.nts.org.uk/cruises/on-board
Cable Article Brexit: This is Not Who We Are.
I am delighted to contribute a feature for Edition 8 of the excellent on- line magazine Cable – International Affairs from Scotland.
https://www.cablemagazine.scot/kay-brexit-not-who-we-are/
Scotland's Memoir Film on Youtube
I was proud to contribute to this lovely film about Scotland – this is who we are.
https://www.youtube.com/watch?v=2x8P-nkFJ7M&t=45s
AWARD for SCOTS
Meikle thenks for aw the kind words anent ma speech at #NaTrads. Ablow is a link tae ma bittie.
My section fae the brilliant MG Alba programme for those who want to see the wee film and hear my speech. Thanks to all those who have commented on it and who have supported me in the guid cause.
Many thanks to bees knees media for supplying a link to the clip:
Password is: hive01