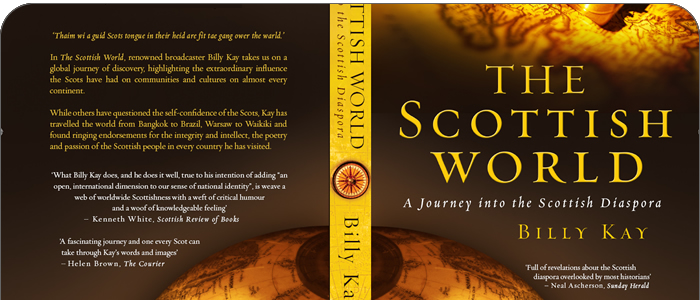 News & Latest Updates
For details of forthcoming
broadcasts and public talks
given by Billy Kay,
News
The Declaration April 6 – 8
Letter of Liberty April 4
Freedom Come A' Ye April 9
Rebel Tongue April 21st
Dugcast May
St Andrew's Society Banquet New York
Library of Congress Washington DC
Many thanks to everyone who responded so positively to my series on the Declaration of Arbroath. Unfortunately after 30 days, it drops off the BBC Sounds player, but eventually, I hope to make all of my programmes available online.
In the meantime, though, anyone in search of my programmes when they are no longer available on BBC Sounds, should head over to the Youtube channel Indymatters. They have uploaded a number of my archive series, so you might well find what you are looking for there.
https://www.youtube.com/channel/UC8pvizzdWKWWNqaTIZirHyg/playlists?disable_polymer=1
I also contributed to the excellent film, The Letter of Liberty made about the Declaration, by Lesley Riddoch and Charles Stuart and it is available here:
https://www.youtube.com/watch?v=3bZYWJBpMhQ
Freedom Come A' Ye
Alex Salmond, former First Minister of Scotland also featured the Declaration in his tv programme on Russia Today. Delighted to contribute with historian Ted Cowan: You can watch it here.
https://www.rt.com/shows/alex-salmond-show/485264-arbroath-declaration-scottish-independence/
REBEL TONGUE
It gied me meikle pleisure tae contreibute tae my pal Ally Heather's television documentary on Scots. A delicht as weel tae see clips fae ma ain series on the subjeck The Mother Tongue that wis braidcast in the 1980s. Gie yer een, yer lugs an yer harns a treat bi cleikin here.
https://www.bbc.co.uk/programmes/m000ht9w
DUGCAST FAE THE DUGHOOSE
Fair enjoyed my blether with Paul Kavanagh, aka the Wee Ginger Dug. You can tune in by clicking here:
https://weegingerdug.wordpress.com/2020/05/08/dugcast-fae-the-dughoose-with-billy-kay/
St ANDREW'S SOCIETY OF NEW YORK ANNUAL BANQUET
The Universities Club Manhattan November 22, 2019
It was a privilege and a pleasure to address such a prestigious Society. Here is an article about what was a very special occasion for the Kay family.
https://www.newyorksocialdiary.com/in-living-color/
Mike Alexander did this fine piece about it in the Dundee Courier:
https://www.thecourier.co.uk/fp/news/local/dundee/1008544/newports-billy-kay-touched-and-honoured-to-receive-prestigious-scottish-american-cultural-award-in-new-york/
LIBRARY OF CONGRESS Washington DC February 21st JAMES HOGG SYMPOSIUM
I felt honoured to contribute to the James Hogg Symposium in Washington DC along with Valentina Bold, Sheena Wellington and Adrian Hunter from Scotland and Nancy Groce from the American Folklife Centre – a great promoter of Scottish culture in America. Here is the Video of the day's proceedings. My illustrated lecture begins at 052.30 and ends at 1.43.50
https://www.youtube.com/watch?v=1Ew0K6PMExo