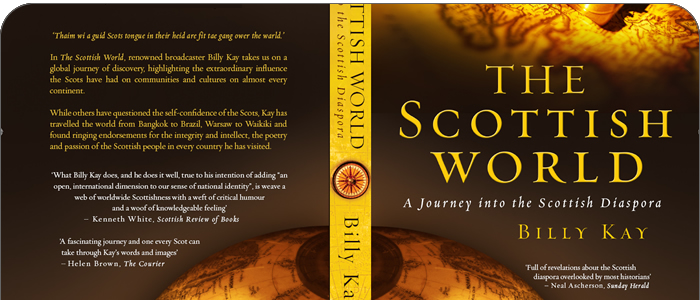 News & Latest Updates
For details of forthcoming
broadcasts and public talks
given by Billy Kay,
News
The Scottish World Stirling February 18
The Scottish World St Giles Edinburgh April 12
Declaration of Arbroath In Production
Scotland's Memoir Film on Youtube
Award for Scots Video Link
The Scottish World Stirling Literary Society February 18 7.30
Billy will talk about his travels in The Scottish World illustrated with clips from his radio series on the Scottish diaspora. More details here:
http://stirlingliterarysociety.org.uk/SLS-Programme-18_2.jpg
https://www.smithartgalleryandmuseum.co.uk/events/
The Scottish World St Giles Cathedral Edinburgh April 12 7.30
Billy is delighted to be invited to speak in this iconic venue and looks forward to celebrating Scottish diaspora history in such an historic setting. More details on tickets here:
https://www.tickettailor.com/events/stgilescathedral/234538/
This is the Facebook event link where people can express an interest in attending: https://www.facebook.com/events/808600192806423/
THE DECLARATION In Production
For the 700th anniversary of the Declaration of Arbroath in 2020, Billy will present a major series of three programmes for BBC Radio Scotland on a hugely significant moment in Scottish and world history . The Declaration of Arbroath was one of the first statements ever to define a concept of national sovereignty and it has had a profound influence at home and abroad ever since
"For as long as but a hundred of us remain alive, never will we on any conditions be brought under English rule. It is not for glory, nor riches, nor honours that we are fighting, but for freedom — for that alone, which no honest man gives up but with life itself."
Scotland's Memoir Film on Youtube
I was proud to contribute to this lovely film about Scotland – this is who we are.
https://www.youtube.com/watch?v=2x8P-nkFJ7M&t=45s
AWARD for SCOTS
Meikle thenks for aw the kind words anent ma speech at #NaTrads. Ablow is a link tae ma bittie.
My section of the brilliant MG Alba programme for those who want to see the wee film and hear my speech. Thanks to all those who have commented on it and who have supported me in the guid cause.
Many thanks to bees knees media for supplying a link to the clip:
Password is: hive01